Welcome to Smile India Trust
The Smile India Trust was established in 2015 for the protection and development of children on the street and in difficult circumstances.
Smile India Trust works for the all round development of street children by providing:

Shelter

  Nutrition

Education

Medical & Health care

Counselling

Recreational activities

Awareness on children's rights

Life skills training

Reintegration into family life

Support and love
'Help Transform Lives Of Girls And Women On The Streets Of Delhi'
Children living on Delhi streets are deprived of basic rights of Survival, Protection, Development, and Participation (UN Convention: Child Rights).
Make a contribution! : The best way to show your support is to make a donation – doesn't matter how big or small. Every contribution has the power to make a huge difference.
Share to show you care : Yes, sharing on your social media platforms such as Facebook, Twitter, WhatsApp, or LinkedIn helps increase the reach of the campaign and in turn the donations.
To read more and support the campaign
 Our Mission:
Holistic care and development and protection of human rights of severely underprivileged children/persons in India.
The four approaches we take as an organization are:

Protection

Education

Health care

Skill based training for livelihood
  Our Vision :
A world where it should never hurt to be a child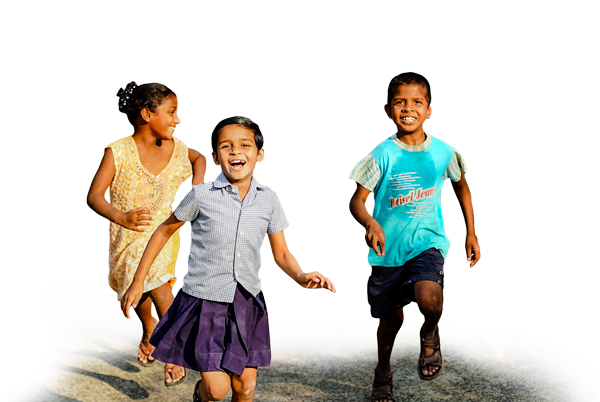 Upcoming Events

Clothes Distribution (4 Drives)
Food Distribution (10 Drives)
Health CheckUp (5 Drives)
Eye CheckUp (5 Drives)
Self Defence (6 Drives)
What We Do
The Smile India Trust works to free street children and poor families from lives of pain, abuse and poverty
Over 250,000 children are forced to exist on the streets of Delhi. Around five million people live in horrific conditions in slums. They do not have clean water; children are often hungry and diahorrea and skin diseases are common.
To survive, children scavenge in rubbish dumps to find scraps to sell or beg on the streets. Most are not in school and have poor health. Many children are abandoned and are at high risk of abuse, exploitation and child trafficking.
We work with committed people and organisations to change these children's lives. We fund and support projects in health, nutrition, child protection and education. We also advocate for better services and seek ways to support access to Government programmes.
Smile believes in sustainable development. We partner with 16 local Indian NGOs and currently fund over 60 projects for street and slum children and their families in: education, healthcare, child protection, nutrition, drug rehabilitation and vocational training.
Learn More
Protection
Our Protection Homes directly benefit abandoned children; runaways, orphans, victims of child trafficking, children of sex workers and at risk street and slum children.
Girl2B
Out of 38 Girls, 27 girls are in the age group of 10 years to 18 years. They get direct benefits of 24 hours care and protection, education, nutrition, medical insurance, health care, counselling support, celebration of their birthdays.
Education
One of the strategic goals of the organization includes early intervention in the life of the a child living in the streets and slums and providing them adequate facilities to bring them out of cycle of poverty.
Child Watch
253 street children yearly have access to "Right to Education, Play, Expression, Skill Enhancement programme" through Nabaasha – Center at four police stations in Delhi.
Health
The Smile India Trust takes several approaches and strategies to ensure improvement to the health conditions of people living in South, North and Howrah Delhi regions.
Smile Hospital
Aims at ensuring proper medical treatment to the underprivileged people below poverty line and is deprived of required medical treatment, in and around Delhi and Howrah.
Child Watch
The Smile Child Watch programme aims to create a safety net for vulnerable children, through ensuring child protection through Rescue, Rehabilitation, Repatriation and Restoration.
Life Skills Projects
Lifeskills Training Program for disadvantaged young people has the aim of helping every young Indian to be employable, have selfworth and lead a dignified and productive life.
Our Impact

829,619